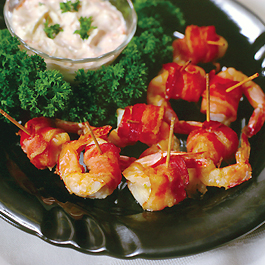 Courtesy of Florida Agriculture Bureau of Seafood & Aquaculture
Servings: 6
Prep Time: 20 Min.
Cook Time: 5 MIn.
* 24 large shrimp, peeled and deveined
* 8 oz. Asiago cheese
* 1 Tbsp. chopped jalapeno pepper
* 12 slices bacon
1. Wash the shrimp and pat them dry. Butterfly shrimp by cutting lengthwise along the back--don't cut all the way through, leaving the tail section intact.
2. Grate the cheese and mix with jalapeno pepper. Cut each piece of bacon in half. Fill the open section of each shrimp with about 1 tsp. cheese mix. Wrap each shrimp with a piece of bacon, and secure with a wooden pick.
3. Place shrimp on a broiler pan and broil until bacon is crisp. Turn the shrimp and broil until bacon is done.

* Recipe Courtesy of Florida Department of Agriculture Bureau of Seafood and Aquaculture.
Calories: 237;
Calories From Fat: 157;
Total Fat: 17g;
Saturated Fat: 8g;
Cholesterol: 88mg;
Total Carbs: 3g;
Protein: 19g;